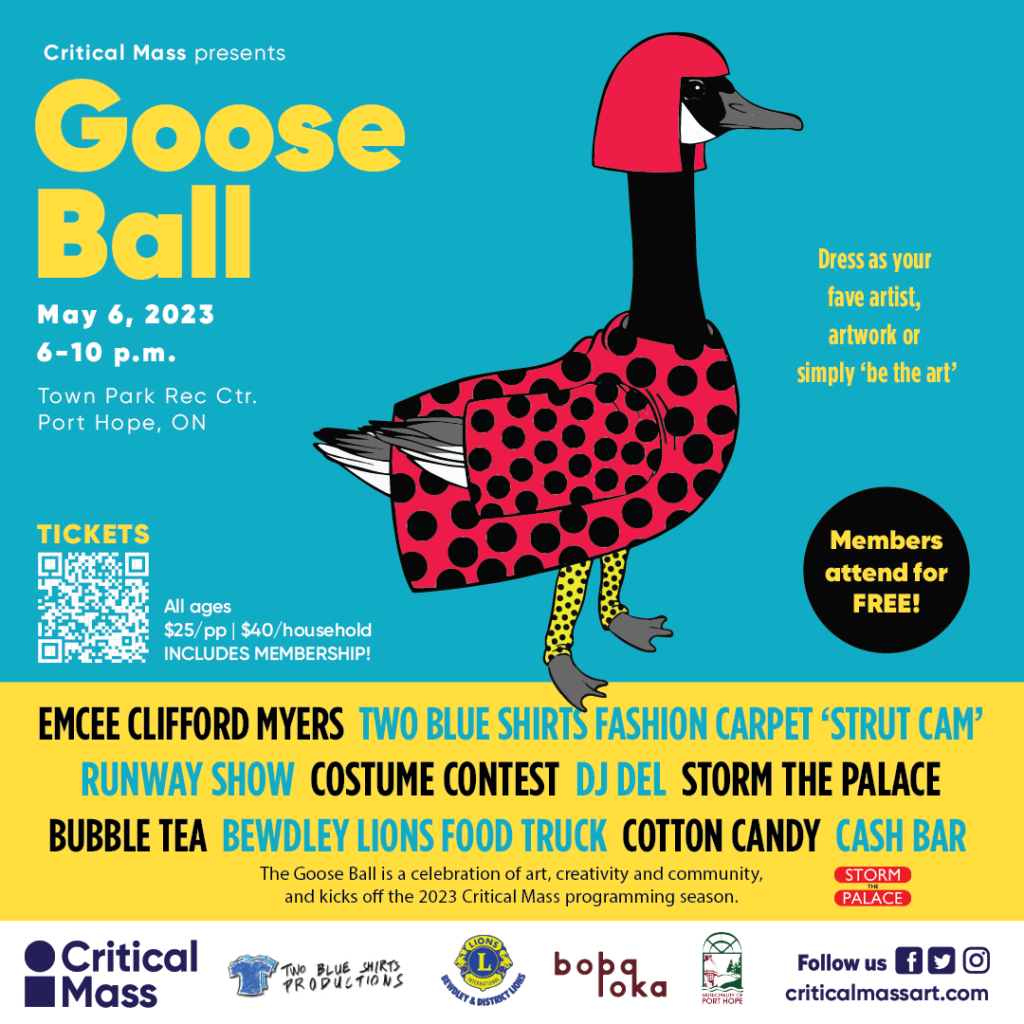 STORM THE PALACE WILL BE PERFORMING AT GOOSE BALL.
PRESS RELEASE:
New York has the Met Gala. Port Hope has the Goose Ball!
On May 6, Critical Mass Art will celebrate The Goose Ball, a free event (if you have a 2023 annual membership!) that invites Port Hopers of all stripes to express your individuality and flaunt your unique style as you walk the 'Art Couture' runway and dance the night away in a safe, inclusive space.
On the Saturday after the Met Gala (the first Saturday of May), hundreds are invited to gather in the gym at Port Hope's Town Park Recreation Centre to celebrate art, culture and creative self-expression.
Unlike the exclusivity of the Met Gala (or most high-end gala events), the Goose Ball is the quirkier, more affordable, 'anti-gala' for us all.
The Goose Ball democratizes the gala experience, inviting people of all ages and backgrounds to come together to share in the festivities and showcase the creativity that makes up Port Hope's runway. Under this year's 'Wearable Art' theme, guests are invited to dress as their favourite artist, artwork, or simply to 'be the art'.
This event is a celebration of art and kicks off the 2023 Critical Mass programming season.
Guests of the Goose Ball will enjoy a fun-filled evening of celebration, cocktails, food truck goodies, a Public Runway Show, the Two Blue Shirts 'Strut Cam', music by DJ Del, a Special Performance by STORM THE PALACE and the announcement of our 2023 Artist Residency line up! With comedian Cliff Myers as the emcee, the evening is sure to be full of laughs.
Funds raised from the event will be designated where they are needed most to support our annual programming. Our goal is to raise $10,000 to sponsor, promote, and house a couple visual or multi-disciplinary artists (or artist collectives) for 2 months, in our artist residency program.
Dates: Saturday, May 6th, (the first Saturday of May)

Time: 6:00 p.m – 10:00 p.m.
Tickets:
Individual $25
Student $15
Household $40 (Up to *5 ppl in a household).
*Additional members pay $10 each
Buy Your Goose Ball Tickets Here

Membership to Critical Mass is included with purchase of your Goose Ball tickets.
If you already have a 2023 Critical Mass membership, members attend the Goose Ball for FREE!
Our 2023 Annual Membership fee is:
$25 individual or $40 household (up to 5 ppl).
Visit our Membership Page for details.
—
This project is supported by the Municipality of Port Hope through a Foundational Funding pilot program.