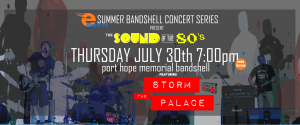 The Sound of the 80's fills the Port Hope Bandshell this Thursday, July 30th as Storm The Palace return as part of the 2015 EAGLE.CA Summer Bandshell Concert Series. The band take to the stage from 7:00-9:00pm and admission is always free!
After a successful performance closing out the Canada Day festivities, STP are excited to return the the very stage that all three members cut their teeth on playing in early bands as teenagers. We'll be playing the usual gems, a few new songs, and dusting off some that we haven't performed at all this year.
Tire out the kids before bed by getting them dancing to the Sound of the 80's!